Fubar Labs is excited to announce the second annual FUBACON: Rise of the Primitive Bots! The event will take place on October 23, 2016. It is intended to encourage everyone – young and old – to take a stab at building their own robot, regardless of their previous experience or technical ability.
The competition was inspired by Hebocon, a sumo robot competition held in Japan. This year, FUBAR Labs will follow a slightly different set of rules, designed to make the event fast paced and action packed!
Simply put, two ridiculously fun robots will enter a table-top arena. The robot that stays in the arena the longest, without falling over, wins. Please keep your robots low budget and low tech! The idea is not to out-engineer the competition, but to have fun making something ridiculous and learn a little in the process. We encourage you to upcycle old junk lying around your house to create your robots, though supplies for building small, ridiculous robots will be available at the event.
Anyone can participate in the competition, but children under 18 will need an adult to supervise them. (This is a family friendly event, so we ask that you conduct yourself, and your robot, accordingly. Robots deemed dangerous to the audience will also not be allowed to compete.)
Participants can build their bot at home using whatever they have handy, or they can show at at FUBAR Labs (100 Jersey Avenue, Suite B-103, New Brunswick, NJ 08901) at 1:00 pm and build with us! We'll have a variety of craft supplies, and small motors (the kind you might find in an electric toothbrush) available for you to use. You can, of course, bring in your own supplies, too.
All competitors must show up in person at FUBAR Labs with their completed robot by 3:00 pm on October 23, 2016. The competition will get underway at 3:30. The event is free for FUBAR Members and $20 per robot for the general public. Spectators are welcome, as well.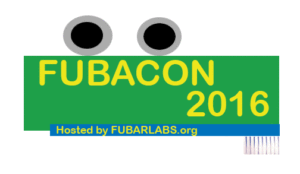 FUBACON AT A GLANCE
Price: $20 per robot entry
Date: October 23, 2016
Location: FUBAR Labs, 100 Jersey Avenue, Suite B-103, New Brunswick, NJ 08901
TIMELINE
1:00 Build Session
3:00 Registration Closes
3:30 Competition Begins!
AWARDS
Primitive Class Winner
Low Tech Winner
Grand Champion
People's Choice
Follow this link for Official Rules.