FUBAR (Bill and Rebecca French, Rick Anderson, Jean Consorti, Eric Rivas, Jessica Eckert) was out in full force at the Detroit Maker Faire.  We had full team as well as the Red Shirts (Matt Hagan and Jackie Gerstein) and FUBAR sponsored Rutgers Makerspace Team (Kung Lo, Jesse Peralta, Mohit Chaudhary, Kevin Bartlam) with RU Greasy debuting in its first official Power Racing Series event.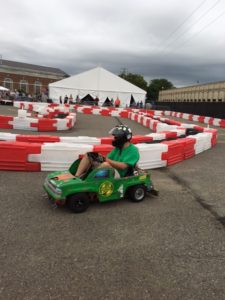 The largest race so far in the season with 37 cars and many incorporating the new Nissan Leaf Cells (the game changer of the series).  Bill finished 3rd in Qualifiers with a time of 24:04 before the rain hit and made things trickier for the remaining cars.  The race schedule broke down and broadcasted on Twitch.tv:  Race 1: Sprint – 2 heats , Race 2: Free for All and Race 3: Endurance.  All of these were broadcasted on Twitch.  The cars were divided into two heats for Race 1.
The second heat of the Race 1 was driven by Jean.  She started out a promising 2nd place but didn't recover after being rammed into the barriers and getting caught up in another accident caused by the same driver.  Ultimately, finishing in 10th place.  However, RU Greasy  driven by Kung was able to come out with a second place win in its debut race.  Red Shirts Star Fleet was in the first heat of Race 1 and placed 8th
The free for all race had all 36 cars on grid with Bill driving.  Despite the slick conditions and the congestion, Bill placed 2nd with time of 17:00. Rambulance came in 1st and Cartastrophe coming in 3rd.  RU Greasy placed 11th.  Again you can catch all the action or relive it on Make's Twitch Channel at www.twitch.tv/make
Sunday was the 75 minute endurance race.  The driver line up included Bill, Rick, Rebecca, Jean and Bill.  The competition was fierce though.  We were able to to finish 2nd completing 149 laps.  RU Greasy finished 5th with 131 laps and Star Fleet 20th with 87 laps.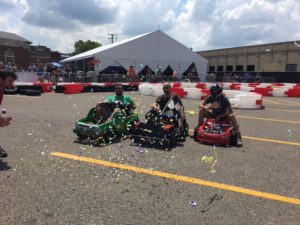 After all the calculations and moxie votes tallied, congratulations to Lilo and Stitch 3rd, Cartastrophe 2nd and Lighting McQueen 1st who were the overall winners of the weekend!  Well earned! Extra shout out to Eric and Kung who were excellent track marshalls.  They are the unsung heroes who help untangle cars and kept things safe so that the races could go as smoothly as possible.