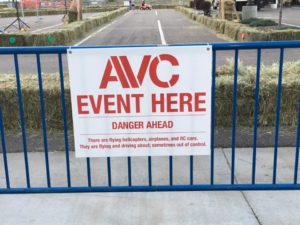 We competed at SparkFun's Autonomous Vehicle Competition 2016 in Boulder, Colorado as part of the Power Racing Series. Our journey brought us first to Baltimore Hackerspace to help transport Pokeball and McQueen.
Then the 26 hour drive to Colorado where soldering and coding furiously ensued in Bill's backseat. Ultimately we made it. SparkFun set beautifully just outside of Boulder.
Race Day, Jean made Pole Position with 20.76 but was beat out by Bill who made a 19 second lap. During the first race, Jean held first place until the wheel fell off and a sprocket loosened. The second race, Bill was able to win in a dramatic finish while the other wheel broke. The team ultimately won first place in race points, 3rd place overall.
OTTO tractor overcame many obstacles including recovering from being drenched by the sprinkler system at the venue. Ultimately it was able to debut on the track. The competition was difficult as only one autonomous vehicle was able to make a full lap whereas most were only able to complete a turn or two.
The competition was also a great bonding experience for team family members and fellow hackerspaces like Baltimore and meeting new people like the folks at SparkFun.